First Look Wedding Photos are becoming more popular…6 out of 10 bridal couples will opt for the First Look in 2013.
What is "The First Look" – It's the opportunity for you to have 10 minutes alone with your groom on the wedding day. In essence, it's seeing each other before you actually get married, just the two of you, romantic, sweet, never again repeated….Truly capturing the moment you first see each other. Then taking time to get amazing portraits of just the two of you before all the hustle and bustle of the day begins. Photographers love it because it gives us more time to get amazing photos.
I wanted to give you a few reasons why doing  First Look Wedding Photos is a good idea – and also a few reason some brides decide to go the traditional route.
Here are are few reasons why NOT to do the First Look Wedding Photos.
1) It's not traditional. Keeping with traditions can be really important to some brides and grooms. Parents might not understand either.
2) Bad Luck – Superstitious individuals say that seeing each other before the wedding can be bad luck (by the way – this superstition started way-back-when arranged marriages were the norm, parents told their children this so that kids wouldn't back out of the marriage…Can you believe not meeting your spouse until AFTER you said "I Do"?! …… Sorry, I digress)
3) "The Moment" he first see's you walking down the aisle won't be the same….However, everyone is standing, blocking his view, your dad might also be in the way….so it's hard to say when he'll first see you anyway. (I wonder if you can tell if I'm a tad biased?)
Now honestly – First Looking Wedding Photos are SO AMAZING! (yes, I'm kinda excited) and the reasons why YOU will want to do them.
1) It's the only 10 to 15 minutes you'll have alone all day. Think about it….when are you going to have a moment to really enjoy your wedding day together? Just the two of you? It's a wedding DAY – let's use more of that day and maximize the time you can spend together.
2) You'll get more fabulous photos of yourself…(this is my favorite part)….After the First Look Wedding Photos, we'll take you off and spend some time getting romantic, fun, stylish and emotional images. With this additional time – you'll be able to coordinate nearing anything you want in  your wedding portraits. The sky is the limit! Let's have some fun!!
3) Once done with your portraits, we go ahead and do any other photos we want….Bridal Party, Family….again – we have the time let's maximize. OR – take a few moments to relax and take a breather before you walk down the aisle. Again, there are so many options when you choose to do a First Look.
4) After the ceremony – what do you do now? Sunset photos, family photos (for those who weren't there earlier)…then my clients get to enjoy a portion of the cocktail hour with their family and loved ones. (Win-Win…Great Photos plus enjoying more time with the people you want around)
Some of my most favorite images were captured during the First Look….Here are some of my favorites:
 Coming up to the groom from behind makes for some amazing expressions and emotions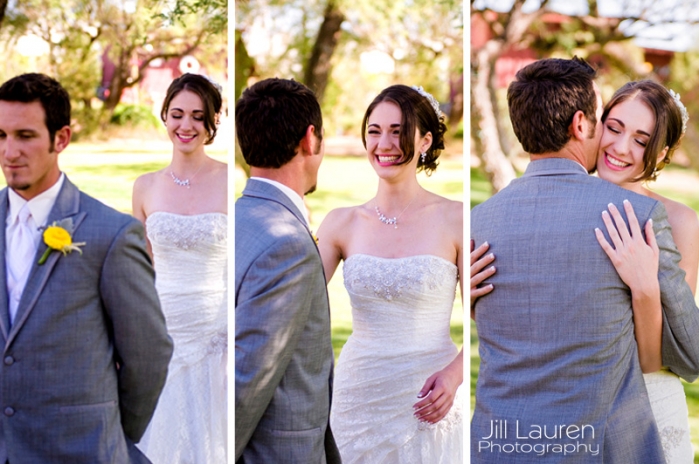 Blindfolding the groom is a great way to surprise him with your amazing-ness
Praying together around a corner before seeing each other adds a spiritual element to the best day of your life.
There is always such genuine smiles and feelings during the First Look – these will be the images you will cherish your entire life
Even if you choose to go the traditional route of not having the groom see the bride before the wedding day…you can still schedule some time together. Praying together around a corner or blindfold the groom and spend a few moments together – get creative! Take advantage of the most important day in your life and spend as much time as possible with the man of your dreams.
Obviously I believe that the First Look Wedding Photos will help in telling the amazing story of your wedding day. I will always offer suggestions and ideas to my clients – but it is your wedding day and we will do exactly what you want. (Although I do a little happy dance when I find out I get to be there for the first look)
What are your thoughts – are there additional Pros or Cons that you can think of? If you've already been married and did/didn't do a First Look – what are your feelings about it?
(I heard one DJ who asked his brides afterwards their feelings about their wedding day and he reported 80% of the brides who went the traditional route wished they'd done the First Look, they said it was too stressful and felt rushed. While 100% of the First Look brides didn't regret anything)
Do you want more Wedding Tips and ideas? Click here for more wedding tips from a photographers point of view.
Related posts: