My clients want to know what they should wear for their engagement session. I thought I should probably share my ideas on the blog. When planning your engagement photos here are 4 pretty engagement photo outfit ideas.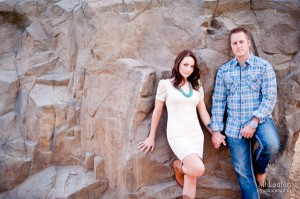 1)      What looks good on camera (and what doesn't). As a rule of thumb, always wear clothing you are comfortable in. Don't wear too tight, too loose, or awkward clothing. You will look better in photos when you are comfortable with what you are wearing (this rule applies to shoes as well). Comfortable can still be dressy and gorgeous….so don't think you have to be super casual. If you have time – bring a change of clothing and get a different look in your images.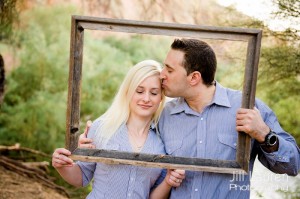 2)      Match vs. coordinating: Matching clothing can be good. But it can also be not-good. It depends on your personalities – usually matching shirts can work. If you don't want to match exactly, then go with coordinating. This is more like you wear what you really want – and then he wears something that compliments the colors in your outfit. Also – tie in other aspects…matching socks, shoes or cute hats.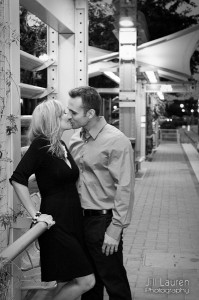 3)      Setting & Outfit Choice: The location where you choose to do your photos is important to your outfit choice. You can do a rural location and really glam it up – using opposite and contrast to give your shoot a unique feel. Or you can have your outfit go with the overall feel of the location. Keep in mind that there is no hard rule – creativity and uniqueness is always an option!
When choosing your outfit – keep in mind the terrain when picking your shoes. If your shoes are important and aren't necessarily comfy for walking a lot. Then bring a pair of flip flops to throw on in between photo spots.


4)      Too much skin is not a good thing: Your engagement session is about the two of you. How much you care for each other. Skirts that are too short or tops that are too low aren't necessarily flattering in engagement photos. (You'll know it's too short/low if you constantly have to adjust or pull down in order to be comfortable). Sometimes sleeveless or tank tops are not flattering for arms.
So there you go, my ideas for 4 pretty engagement photo outfit ideas. If you want to see more of these ideas in action – Click here for Engagement Sessions
Related posts: