Your Wedding Day. You've prepared for everything. The First Look went off without a hitch, the Ceremony was incredible, the First Dance was spectacular….now it's time to Cut the Cake. But wait – How to cut a wedding cake?
This is usually the part of the evening when your wedding planner quickly explains what to do and then gets out of the photo. But were you really listening to her? Everyone is looking at you and your new husband and the two of you are supposed to know how to do this. But let's get real – cutting cake with another person is only going to happen once in your life…so you really don't have a clue.
Not to worry. I'm here to give you the 4 easy steps to cutting the cake. That's right – only 4 simple things to remember and the two of you will seem like pro's. When your wedding planner stops by to give you the run down, you can say "We've got this covered, our photographer gave us everything we need to know on how to cut a wedding cake."
1)      Decide on Forks or Fingers – If you are using forks to feed each other, then you won't be smashing cake (or at least you shouldn't be). If you decide to use your fingers to feed each other cake – then feel free to smash away. My one rule – be ready to lick off any smashed cake from the other persons face 🙂 (Also if you've decided on forks – then make sure there are 2 available before you get started)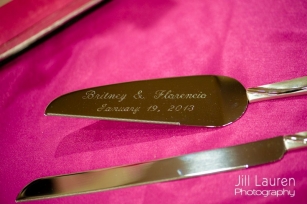 2)      The Cutting Utensils – in front of you is usually a long knife and a spatula-type thing. The knife is used first – the spatula second. The brides hand grabs the knife first, the groom places his hand over the brides. You will make two cuts – a Triangle. Don't worry about making it too big. But be sure to cut all the way through all cake layers with both cuts.
3)      Serving each other – The spatula-thing is used now (one of these days I should know what the name of that thing is) Only one of you needs to do this part – you already cut the cake together, now one person can use the spatula to scoop the cake onto a plate (If the bride is doing the scooping, then the groom should be holding the plate). It's easier to decide beforehand who will be doing what.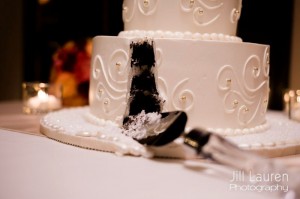 4)      Feeding each other – this is the fun part. Remember, you already decided on Forks or Fingers. Now just have fun. You get to have your cake and eat it too!
Make sure this isn't the only taste of cake you get – be sure to have a whole piece later on. I missed out on eating cake at my wedding and I was a little sad afterwards.
So now you know how to cut a wedding cake. You'll be all set for your wedding day. Or you can always be available to tell your friends how they should do it. It's always nice being the friend that knows what to do in circumstances like this.
If you have any questions about wedding day tips or ideas – please feel free to ask in the comments below. You can also check out our Tips and Tricks section – Wedding ideas from your photographer.
Related posts: